OctoRaid VR
A downloadable Game for Windows and Android

Hunt Octopus... or Be Octopus!
This Game to check your physical ability in VR and your Cooperative ability in Mobile.
Cross-Platform Local Multiplayer Game that can be Enjoyed by up to 5 people.
Bring your Friends or Family and Compete with them to see who is the Strongest Octopus!
Affected by Genres Such as Casual / Party / Asymmetric / Bullet-hell / Smash-like / Co-op
In a Underwater City of a Circular Babel Structure, Players become Octo or Hunter, a Giant Octopus is Knock down Everyone who wants to Hunting Me, or Let's join forces to hunt Giant Octopus!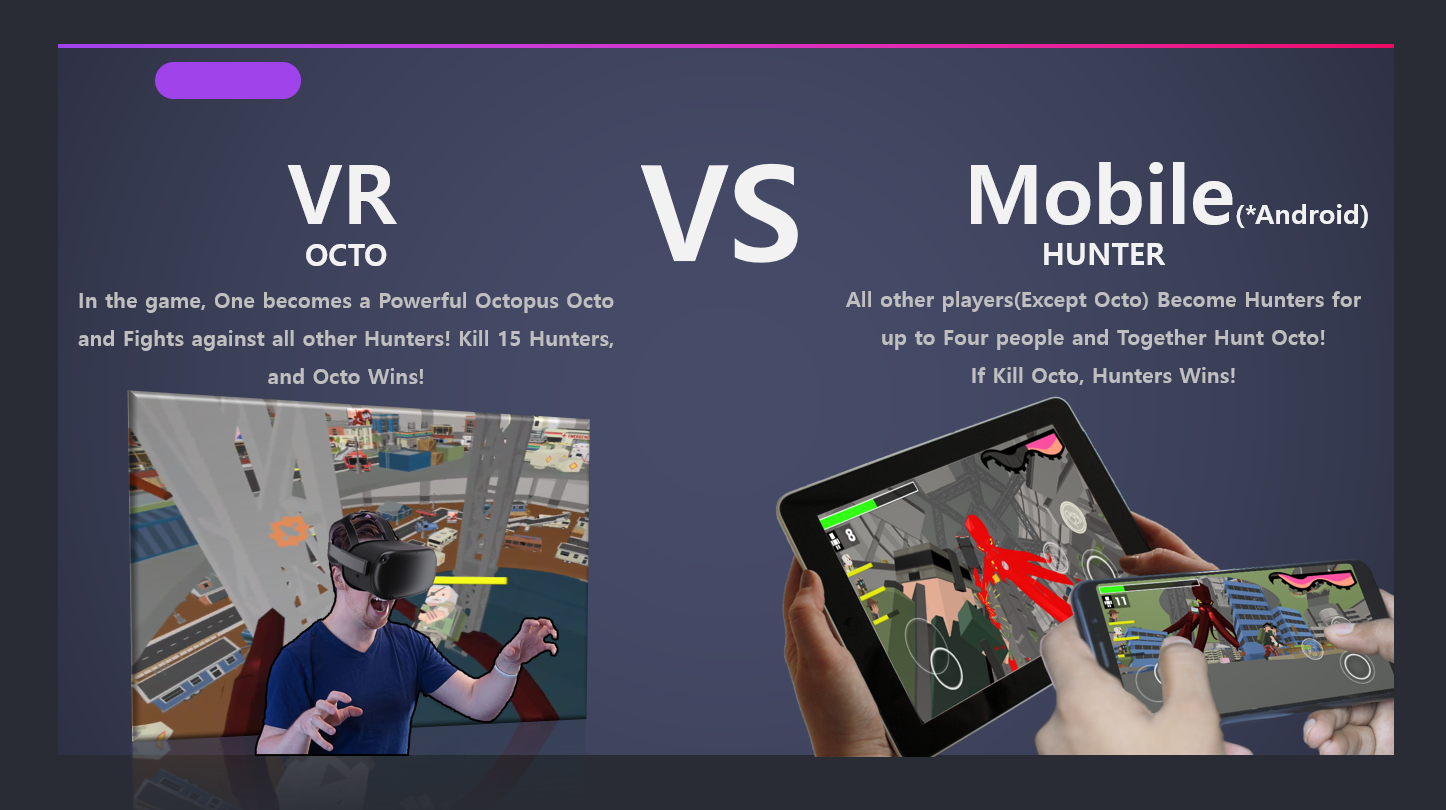 Octo(OculusQuest or PCVR): In the game, One becomes a Powerful Octopus, Octo and Fights against all other Hunters! Kill 15 Hunters, and Octo Wins
Hunter(Android or Windows): All other players(Except Octo) Become Hunters for up to Four people and Together Hunt Octo! The more Hunter, the stronger and If Kill Octo, Hunters Wins!
Water Warning : Blue water that gives Hunter a Big Damage and HP Healing to Octo comes up from below. and After a long time, the Red water comes up, causing a Huge Damage to Everyone!
Cross-Play: The Oculus Quest and a number of Android phones are suitable for this game, but they can also be replaced by PC VR (Windos based) and PC (Windows). (Download the appropriate exe file!)
※ This game requires all players to be connected to the same WiFi network. (OnlinePlay X / LocalMultiplayer O)

※ If you have an Oculus Quest, you can easily install the VR application through a side quest!
SideQuest here : https://sidequestvr.com/app/968/octoraid

※ If you're curious about how 5 people play in this game, check out the game play video in the early version here!

※ Installation Tutorial for Android / PC / PCVR

※ If you have a problem or want to give feedback, Come here!
Discord here : https://discord.gg/wzRn6Eb
Download
Click download now to get access to the following files: